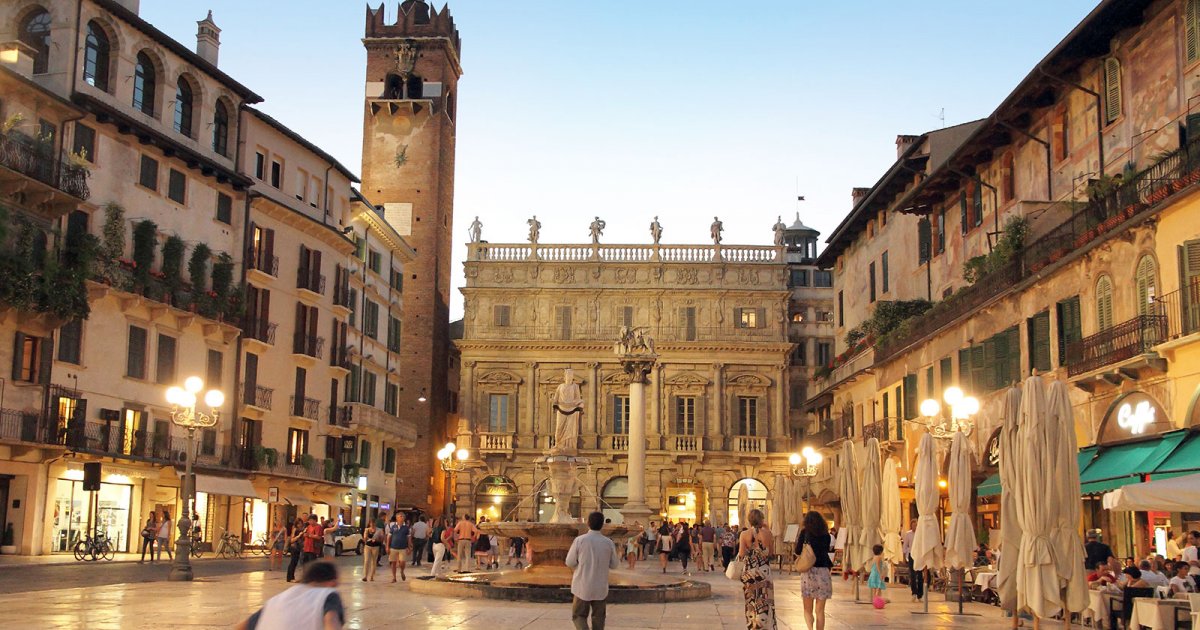 Audio File length: 2.46

Language: English / USA
Hi, my name's Marcy, and I'm your personal guide. Along with MyWoWo, I'd like to welcome you to one of the Wonders of the World: Verona Old Town.
Verona Old Town is packed with squares, streets, monuments and areas with an enormous amount of charm, often linked by arched passages.
Let's start out from Piazza delle Erbe, in the heart of the Old Town. This spectacular and popular piazza, with its slender, tapered shape, has for some 2000 years maintained its original function as the city's market, just as it did in Roman times. It is surrounded by centuries-old buildings on all sides, including towers, simple houses and austere noble buildings.
As for the decorative elements, take a look at the statues on top of the exuberant Baroque facade of Palazzo Maffei, and the remains of the ornamental sixteenth-century frescoes on the Mazzanti Houses. The center of the piazza is occupied by stalls with the typical white sunshades, where you can spot various monuments: the column with the Lion of St. Mark, from 1523; the fountain with the statue known as "Madonna Verona", created in the 14th century by reshaping an ancient Roman sculpture, and the Market Column, featuring emblems that recall the brief period when Verona was under the rule of the Duchy of Milan.
The present-day Via Cappello follows the route of the main street of the ancient Roman city, ending with the noteworthy remains of Porta dei Leoni, dating to the first century AD. Just after it, on the left, is one of the busiest and most popular visitor attractions in Verona: Juliet's House.
On a "real" medieval building, looking onto a little courtyard partially covered by climbing vines, a small balcony has been attached to mimic the legendary love scene in Shakespeare's tragedy Romeo and Juliet, the story of the rival Capulet and Montague families set in Verona.
The great English dramatist took his inspiration for the play from a novella by a writer from Vicenza. There is actually no relation between the monuments in Verona and the places where the tragedy is set, but the idea is so deeply rooted among visitors that Juliet's House attracts a constant stream of tourists and lovers.
An interesting fact: the paving stones of Piazza delle Erbe, measuring about a meter per side, are still used to this day to set the price for granting the use of public space to traders.