BOLSHOI THEATER, Exterior And Interior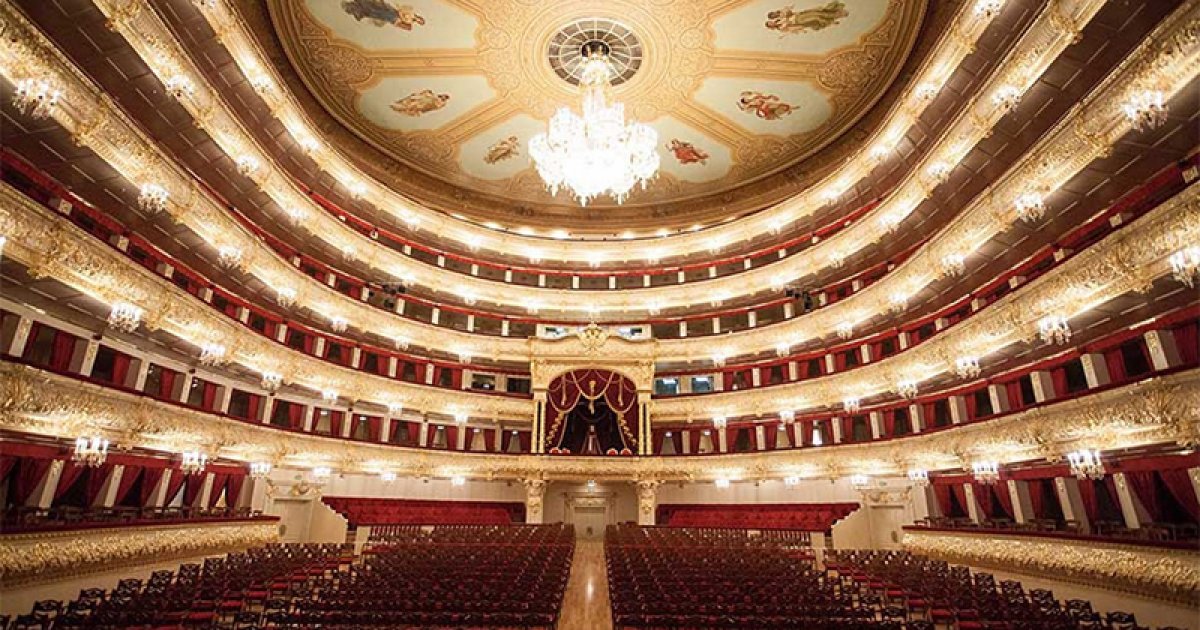 Audio File length: 2.28

Language: English / USA
As you can see, the architecture of the Theatre is monumental right from the entrance, which is topped by an imposing bronze sculpture from 1825 of "Apollo in the chariot of the sun" by Petr Klodt. The neoclassical pediment is decorated with a bas-relief added by Alberto Cavos during the theater's second reconstruction, depicting two angels lifting the lyre of Apollo.
Now pause and press play again once you're inside.
You have just entered an enormous room decorated with black and white tiles, where beautiful white marble staircases rise to the foyer, the atrium adjacent to the theater itself. The latter extends on the first floor over the entire central part of the building.
The foyer leads to the auditorium, which has 6 levels and 2,500 seats; in the center of the theater, the royal dais has been reconstructed, the most magnificent dais of the 120 others that make up the theater's seating area: it is covered in red velvet and is easily distinguished by the symbol of the imperial crown.
Ten beautiful panels painted by Petr Titov decorate the ceiling with scenes of Apollo dancing with the nine muses of Greek mythology.
In the area behind the stage there is the Beethoven Room, sumptuously decorated and used in the past as an imperial foyer. Don't miss it because it's truly wonderful, especially the stuccoes on the ceiling, made up of 3,000 rosettes. The walls have been embellished with carefully embroidered red silk panels.
Interesting fact: The Bolshoi Theatre has been the protagonist of important and often tragic historical events. This is where the final break between the Bolsheviks and the revolutionary socialists took place, during the Fifth Congress of the Communist Party in July 1918.
Lenin's main rival, Maria Spiridonova, dared to accuse him of treating the peasants like "shit", sparking the hostility between the two factions of the party. Lenin held the representatives of the socialist revolutionaries prisoner in the Bolshoi for a long time, while the Bolsheviks forcibly repressed all dissent in the country.
Our visit of the Bolshoi Theatre ends here. MyWoWo would like to thank you - see you again at another Wonder of the World!