NOVODEVICHY CONVENT, Introduction Part Ii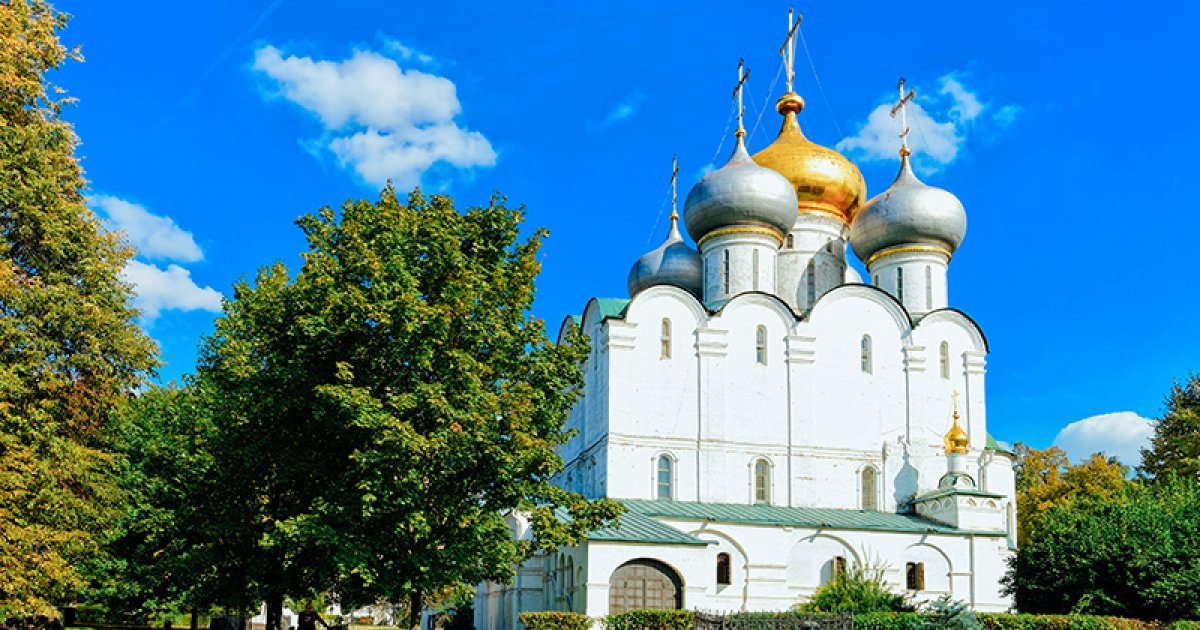 Audio File length: 2.43

Language: English / USA
The main entrance to the monastery is located in the arches below the Church of the Transfiguration, a red building in Moscow Baroque style built between 1687 and 1689.
As soon as you enter through the walls you will immediately come across another splendid building, the Lopuchina Palace, named after Peter the Great's first wife, Eudoxia Lopukhina, who was locked up here after being repudiated.
The oldest and most impressive structure is the splendid cathedral of Our Lady of Smolensk, dating from 1524-1525 and the work of an Italian architect. With its appearance and enormous proportions, this church is reminiscent of the cathedrals built under the reign of Ivan the Terrible. Inside you will be able to appreciate magnificent frescoes, among the most refined in Moscow and, in front of the main entrance, a wall in gilded wood with beautiful icons from the late 17th century. Here too, protruding from the floor, you will find the tombs of the Tsarinas Sofia, Catherine and Eudoxia.
In addition to the cathedral there are other interesting buildings and structures built around 1680, when the monastery was renovated at the behest of the regent Sofia Alekseyevna: you can admire the red walls with crenellated towers, two churches raised above the gates, a refectory and residential quarters, all designed in Moscow Baroque style.
The bell tower, which has six octagonal floors, for a total of 72 meters, was also commissioned by Sofia, who, ironically, was later imprisoned in the adjacent rooms by her half-brother Peter the Great.
When you finish your visit to the convent, I suggest you also go to the charming Novodevichy Cemetery, located outside the convent, full of interesting sculptures, where famous Russian figures are laid to rest, including great writers such as Anton Chekhov, Nikolai Gogol and Mikhail Bulgakov, and musicians such as Sergei Prokofiev and Dmitri Shostakovich.
There are also important political figures such as Nikita Kruschev, former president Boris Yeltsin and Raisa Gorbachev.
An interesting fact: you should know that almost 27,000 people are buried in the cemetery, which is why a map is displayed at its entrance to facilitate the search for famous people, unfortunately written only in Russian.
This concludes our visit to the convent of Novodevichy. MyWoWo thanks you and looks forward to seeing you at another Wonder of the World!