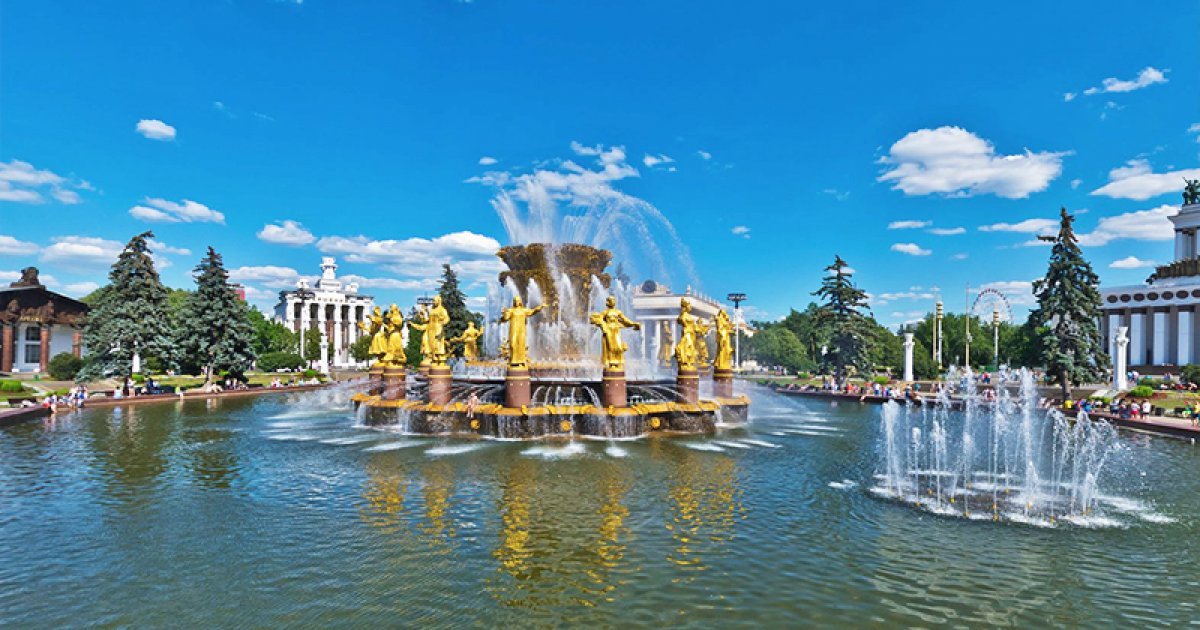 Audio File length: 2.46

Language: English / USA
Once you've walked through the entrance arch, a vast central avenue opens up in front of you, bordered on both sides by seven large fountains.
In front of you is the 1954 Central Pavilion, one of the park's most monumental and important buildings, as well as its tallest, thanks to the golden spire that goes up 97 meters.
Once you've gone past it, press pause and head to the Friendship of People Fountain behind it.
This is the first of three magnificent fountains you will come across along this avenue, all designed in 1954 by the architect Konstantin Topuridze.
Around the fountain, which takes up a good 3,723 square meters, are 16 statues of young girls representing the 16 republics of the Soviet Union and symbolizing their unity. The sculptures were modelled on 16 girls, one from each of the Soviet Union's territories. If you look at them carefully, you'll notice that they look similar to statues from ancient Greece.
Now press pause and continue along the avenue, past the various pavilions on either side, to reach the Stone Flower Fountain.
This fountain is inspired by European models from the 17th and 18th centuries. In fact, if you've ever visited the French palace of Versailles, you might notice a certain resemblance to one of its main fountains, Latona Fountain.
The Stone Flower Fountain is a symbol of wealth, with its ornate and detailed sculptural decor. The central composition, made of large concrete slabs covered with tiles in various colors, represents a blossoming flower. The original project involved the creation of 16 bronze trays of fruit and vegetables as symbols of prosperity, but in the end only three were made.
Beyond the fountain, past Pavilion 58 about Agriculture, you will come across a model of the Vostok Spaceship that is only slightly smaller than the original. This leads us to the huge Cosmos Pavilion 34 and at the end of the avenue you will come across the large Kamensky Pond, where you'll see the Golden Spike Fountain in the center with its 66 water jets, some of them reaching 25 meters in height.
An interesting fact: Did you know that Cosmos Pavilion 34 is the largest Russian space museum complex, a unique opportunity to admire exceptional exhibits in one of the most advanced exhibition spaces in the world.
Our visit to the VDNKh ends here. MyWoWo would like to thank you - see again at another Wonder of the World!