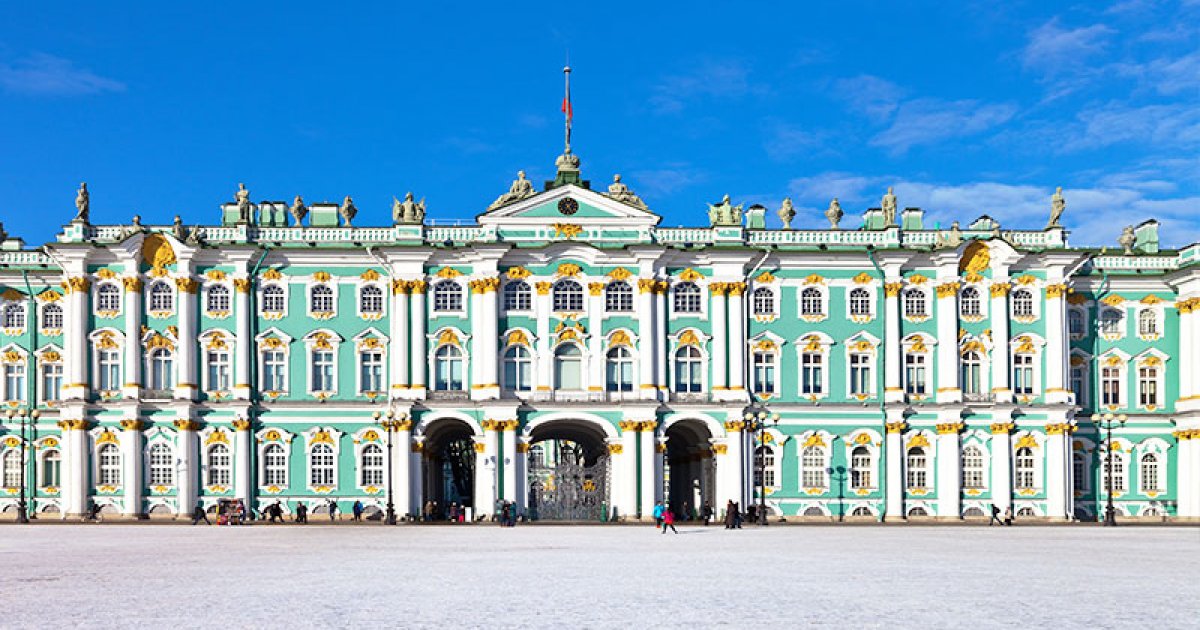 Audio File length: 2.39

Language: English / USA
The Winter Palace, residence of the tsars until 1917, is the main building of the Hermitage, and the most famous palace in St. Petersburg.
The first royal residence, commissioned by Peter the Great, was a wooden construction in Dutch style, built in 1708 and replaced three years later with a stone building.
In 1731, Empress Anna commissioned the architect Francesco Bartolomeo Rastrelli to build a new palace, which was completed in 1735. Just 17 years later, Tsarina Elizabeth asked Rastrelli to expand the palace, but the architect preferred to rebuild it from scratch. Work on the building began in 1754, and by the time Catherine the Great was crowned Empress in 1762, the new palace was almost complete. Although the new empress chose to replace the talented Italian engineer, the exterior of the building remained faithful to his project.
The colorful facades you can see, embellished with two levels of Ionic columns, are richly decorated in Baroque style, and the balconies are enhanced with magnificent statues. The three arches overlooking Palace Square lead into a magnificent large courtyard.
The interior of the Winter Palace, originally furnished in Baroque style, has undergone a number of changes over the years, with a less flamboyant, neoclassical style preferred for many of the rooms.
Most of the sumptuous interiors were recreated by Vasily Stasov during the restoration work that followed a terrible fire in December 1837. Tsar Nicholas demanded that they be completed in just a year, forcing the workers to toil day and night.
The last tsar to use the residence was Alexander II. After his assassination in 1881, it became clear that the palace was too large to be properly guarded, and Alexander III moved to Gatchina and his successor Nicholas II to Tsarskoye Selo. Nevertheless, the Winter Palace was still used for ceremonies and official receptions.
In 1917, the palace became the seat of the provisional government under Alexander Kerensky, and in October it was attacked by the revolutionary forces, before finally being declared part of the Hermitage Museum.
An interesting fact: To this day, the law states that no construction in the area can exceed the 22-meter height of the Winter Palace, out of respect for the true emblem of the city's history.