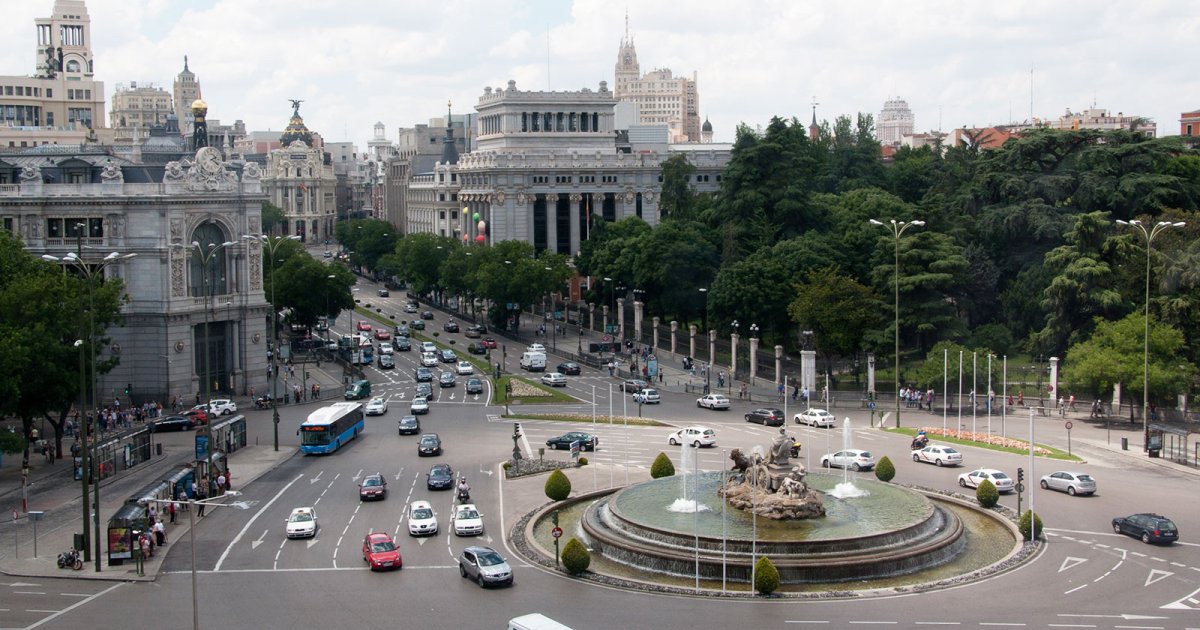 Audio File length: 2.26
Author: STEFANO ZUFFI E DAVIDE TORTORELLA

Language: English / USA
Continuing our tour of Plaza de Cibeles, you can see several large buildings from the end of the 1700s to the beginning of the 1900s.
Start with Palacio de Linares, which was completed in 1900 in neo-baroque style. After more than twenty years of work, it's now the headquarters of "Casa de America", an institution that promotes cultural relations between Spain and Latin America. The rich decoration of the corner façade offers only a small sample of its interior magnificence that the Marquis de Linares had entrusted to a group of artists.
Then on a green hill, you have the Palacio de Buenavista, which is the Army's Headquarters: completed at the end of the 18th century, it is the oldest building in the square. It was the residence of the Dukes of Alba for about 20 years, but after the death of the famous Duchess who was a close friend of bullfighters and Goya's alleged mistress, it was inhabited by various prominent politicians or governors of the city, including General Juan Prim, who was assassinated in one of its rooms.
The Banco de España palace was commissioned by King Alfonso XII at the end of the 19th century and was then expanded on three occasions, the last being a few years ago. Inside there are numerous works of art, including portraits of kings and nobility painted by Goya, and the famous "Camara del Oro" which houses about one hundred tons of gold! It is located fifty meters underground and is protected by armored doors and a moat which will fill up with water if necessary. What's more, one of its rear towers has a hidden helipad, which is apparently never used!
FUN FACT: here's a mysterious legend about the Linares palace. When the Marquis' son discovered that he had married a half-sister who was the result of his father's relationship with a tobacconist, he managed to obtain permission from the Pope to continue living with his wife, although in chastity. But the incestuous couple was guilty of a crime: the murder of their daughter. It seems that the ghost of the small, innocent Raimunda continues to prowl the building at night.
And with this we have finished our tour of Plaza de Cibeles. MyWoWo thanks you for staying with us, and will see you at the next Wonder of the World!