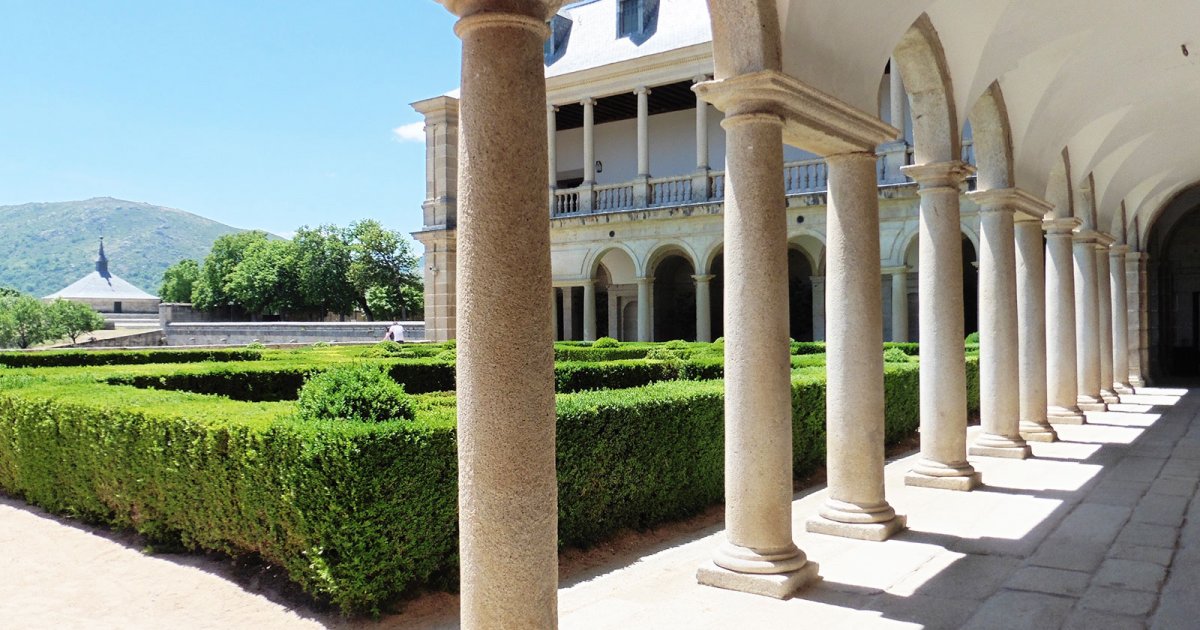 Audio File length: 2.51
Author: STEFANO ZUFFI E DAVIDE TORTORELLA

Language: English / USA
To the left of the church, go out into the "Patio of the Evangelists", which is the most beautiful cloister in the Escorial, and where you can finally enjoy a little bit of green among all the severe gray stone. The cloister is named after the central monument with its statues of the four evangelists Matthew, Mark, Luke, and John. Extensive frescoes of sacred subjects await you under the arcades, which are the work of Pellegrino Tibaldi, an Italian architect and painter of the Counter-Reformation. Another Italian, Luca Giordano, decorated the grand staircase with an elaborate Baroque fresco celebrating the glory of the Spanish monarchy.
The opposite side of the church has the "Capitol Halls" where the Hieronymite fathers met to discuss and make decisions about the monastery's administration. They are late-Renaissance halls with ceiling frescoes by painters from the Genoese school. The walls reveal a real gallery of sixteenth-century paintings; I especially recommend stopping to look at the dramatic Dream of Philip II, a particularly visionary work by El Greco. El Greco is also responsible for the so-called Apostolado, which is the series of busts of the twelve Apostles. Works by various Venetian artists abound, including Tintoretto, Veronese, and above all Titian, King Charles V's favorite painter. His son Philip II was instead a fan of Hieronymus Bosch, and here you can admire his different version of the Mocking of Christ.
In a crescendo of celebratory pomp, the staircase next to the church takes you to the "Pantheon of the Kings", an octagonal Baroque chapel built to house the black marble tombs of the kings and queen-mothers of Spain. At the end of the 1800s the "Pantheon of the Princes" was built alongside it to house the tombs of princes and queens whose children did not become king.
The last room I suggest visiting is the Library. It is a beautiful frescoed gallery, also decorated with seventeenth-century portraits; the library houses about 40,000 volumes, a quarter of which belonged to Charles V and Philip II (the most valuable ones).
FUN FACT: if you are easily shocked, prepare yourself for the macabre sight of the Putridero, a room that is part of the burial pathway. Coffins containing the bodies of dead kings remained there for a few years until the body began to decompose, and were then definitively lowered into the black marble sarcophagi of the Pantheon.
And with this we have finished our tour of the Escorial Monastery. MyWoWo thanks you for staying with us, and will see you at the next Wonder of the World!