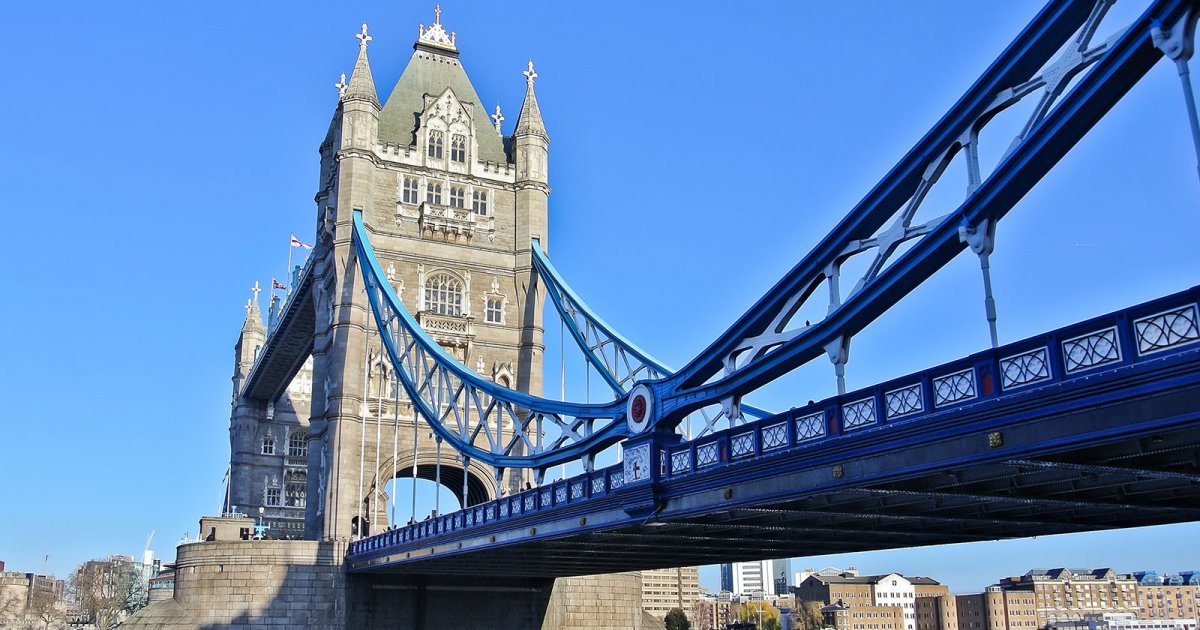 Audio File length: 2.15
Author: STEFANO ZUFFI E DAVIDE TORTORELLA

Language: English / USA
Today you're lucky enough to see this jewel of Victorian engineering and architecture with a new look; it has recently been repainted in bright shades of white and blue. Until the 1970s the original and ingenious lifting mechanism was operated by pipes with pressurised water that was pumped by steam engine-driven hydraulic accumulators, but the system has since been replaced by a more modern, electro-hydraulic system that uses oil instead of water.
If you are curious to see what the old machinery looks like, you can see it at the Tower Bridge Exhibition located in the northwest tower. Besides visiting the ancient engine room and learning more about the bridge's history, the museum also offers the chance to walk along the impressive raised pedestrian walkways, which were recently equipped with a stunning transparent floor that gives you breathtaking views of the nearby monuments as well as the traffic flowing right under your feet!
The most famous opening of the bridge was in 1952, when the brave driver of a typical double-decker bus managed to launch the vehicle over the gap at full speed after it had already started rising. In 1997, the opening of the bridge caused Bill Clinton's motorcade to be separated. The then-President of the United States of America was on an official visit but was running behind schedule, and so he had to wait patiently for the scheduled passing of a barge like any other normal person; it had been communicated by the bridge personnel to the American Embassy, apparently in vain. But perhaps to improve the wait, the then-British Prime Minister Tony Blair reminded the President, who may have been annoyed by the inconvenience, of the popular legend that says that watching the bridge rise brings good luck!
FUN FACT: like other London monuments, Tower Bridge was also part of the "scenography" for the 2012 London Olympics. One month before the inaugural ceremony, giant Olympic rings were hung in the middle of its walkways.
You might also remember an unforgettable scene recorded during filming for the movie Skyfall, where Daniel Craig flies a helicopter under the bridge with Queen Elizabeth!
And with this we have finished our tour of Tower Bridge in London. MyWoWo thanks you for staying with us, and will see you at the next Wonder of the World!