TRAFALGAR SQUARE, Second Part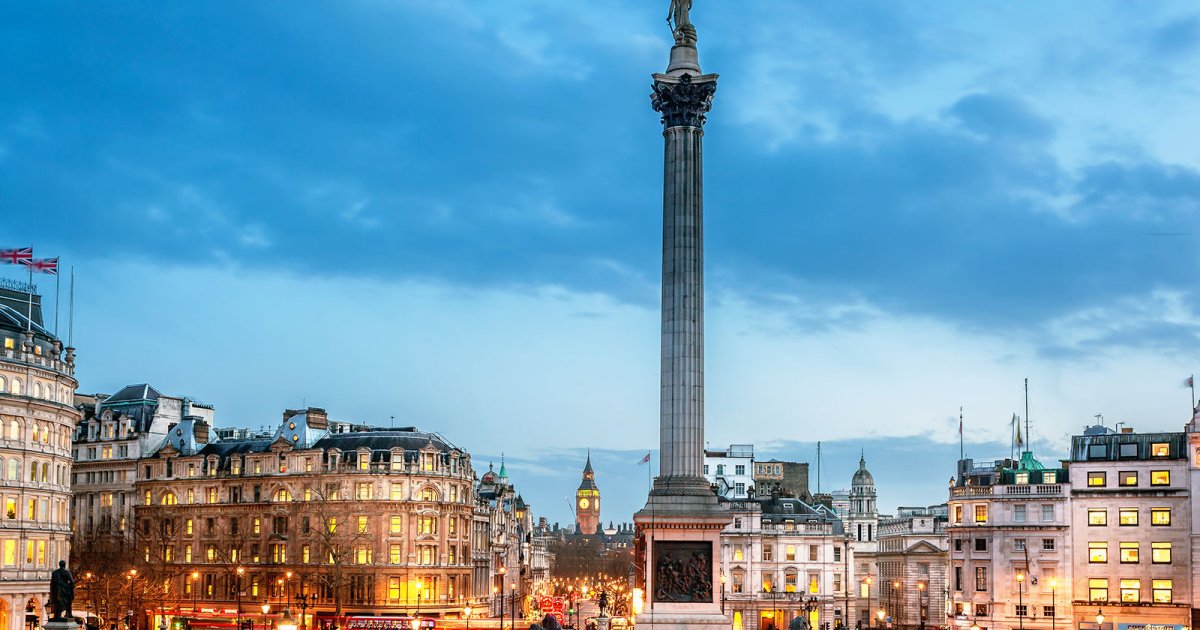 Audio File length: 2.37
Author: STEFANO ZUFFI E DAVIDE TORTORELLA

Language: English / USA
Now let me tell you about the monument dedicated to Admiral Horatio Nelson, which is the symbol par excellence of English naval power and the focal point of Trafalgar Square. The victorious admiral was the scourge of Napoleon, and heroically fell aboard the ship Victory in the Battle of Trafalgar in 1805, when the British fleet defeated the French. You can see the majestic figure of the admiral on top of the colossal, 51-metre-tall column in the middle of the square. The bas-reliefs at its base were made from the bronze of cannons taken from the French ships.
But you should know that the original design for the monument honouring Nelson, which included the colossal lions on its pedestal, didn't even include a column!
Two more pedestals were built facing the National Gallery: the one on the right as you face the museum is the base for a statue of King George IV, while the one on the left has had a far more unusual fate. In fact, it's known as the Fourth Plinth. Of the four decorating the square, it was the only one that remained empty until the end of the nineties, when a commission was assigned to order sculptures by prestigious international artists, to be changed every two years.
In recent years, some of the most original sculptures to have featured atop the fourth plinth have included a gigantic blue rooster, the skeleton of a dinosaur, a golden rocking horse, and even Nelson's ship in a glass bottle!
The pointed spire of the beautiful eighteenth century church Saint Martin in the Fields is to the right of the National Gallery. The name reminds you that this very central church was once outside the walls of the Westminster area. You can visit its elegant interior and the vast crypt that houses the tombs of illustrious figures including the painter William Hogarth and the philosopher Francis Bacon. All around the church you might notice people wearing strange costumes with mother-of-pearl buttons: they are representatives of the Pearly Kings and Queens, a Victorian institution that collects funds for charitable and social purposes.
FUN FACT: at the beginning of the war in 1940, the Nazis planned to invade Great Britain. Knowing the symbolic value of Nelson's column to the British, Hitler had prepared a secret plan to move it from London to Berlin!
This concludes our tour of Trafalgar Square. MyWoWo thanks you for staying with us, and will see you at the next Wonder of the World!