NATIONAL CATHEDRAL, Exterior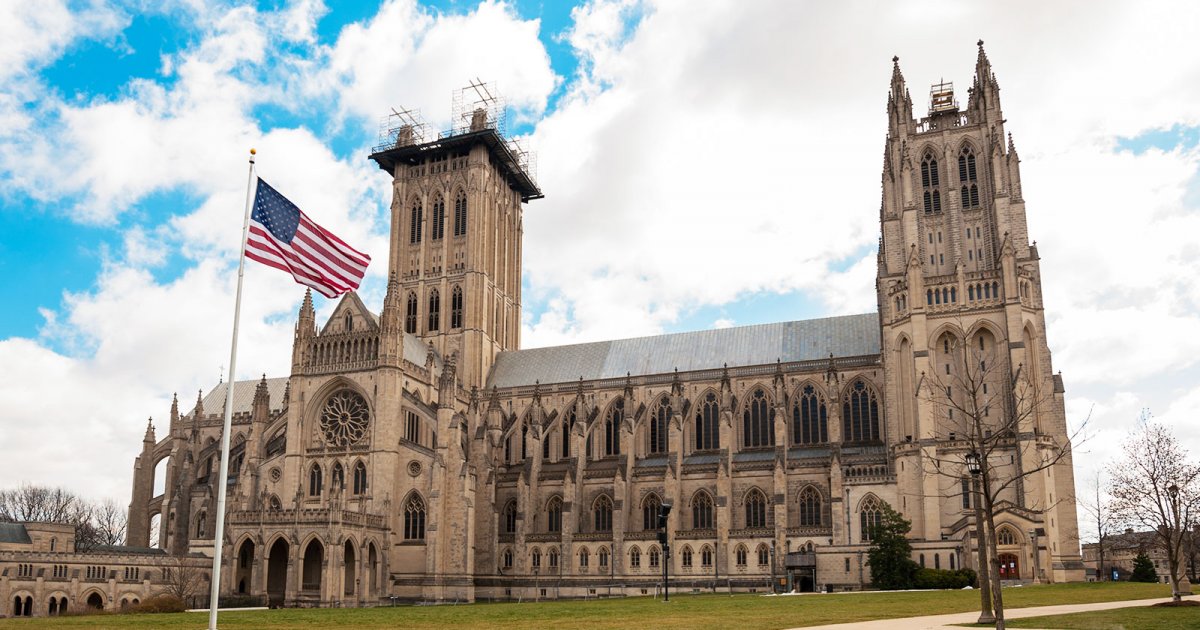 Audio File length: 2.17

Language: English / USA
This magnificent cathedral is built in Neo-Gothic style, with a mixture of various features of medieval Gothic, such as the pointed arches, the wide variety of the internal vaults and the elaborate windows.
It also features an impressive number of towers, spires and pinnacles; the latter were recently reconstructed, since over 70 per cent of them were destroyed by the 2011 earthquake.
The National Cathedral has a rectangular structure, with a nine-bay nave inside, intersected by a six-bay transept. Where the two cross, the "Gloria in Excelsis" bell tower rises up 206 meters above sea level, and is the highest point of the city;
the Pilgrim Observation Gallery - which occupies the external part that leads to the main tower - offers splendid views over the city of Washington.
Above the central portal, you can admire one of the most important religious sculptures of the last century, entitled "Ex Nihilo", by Frederick Hart, representing the creation of mankind. The sculpture continues on the north tympanum, where the creation of day is represented, and in the south tympanum, where the creation of night is depicted.
The Cathedral was built using a typical yellowish stone from the State of Indiana, although more modern materials such as reinforced concrete and steel were also used.
Particularly interesting are the gargoyles to deflect rainwater, adorned with grotesques. The Cathedral has 112 of them, all different, depicting human beings or fantastic animals, the symbols of the US States, and even the devil. One even shows a Yuppie with his briefcase.
An interesting fact: the Cathedral's most famous gargoyle immortalizes the evil Darth Vader of Star Wars fame. You can spot it near the exit, next to the statue of Abraham Lincoln, just below the central pinnacle of the north-west tower. The statue dates back to 1980, when the two central towers were still in construction. It was designed by a child, Christopher Rader, the winner of a competition organized by National Geographic Magazine. No other church in the world features a sculpture honoring a cinema character.