NATIONAL CATHEDRAL, Interior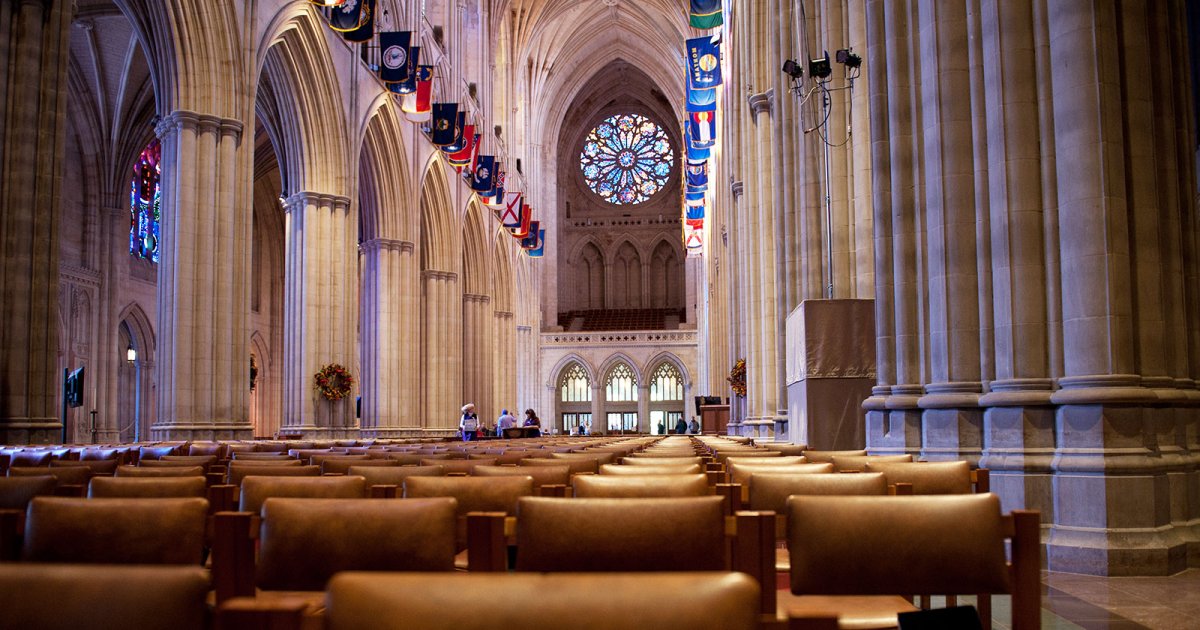 Audio File length: 2.19

Language: English / USA
The moment you enter the Cathedral, you'll be struck both by the height of the nave and by the colored light streaming through the more than 200 stained glass windows. The largest of these, measuring more than 8 meters in diameter, is the rose window in the center, decorated by Rowan LeCompte on the theme of the Creation. Although the artist tried to use all colors, the lion's share is made up of red, gray, green and brown, which represent, respectively, fire, air, water and earth, the four elements of nature according to Greek culture.
The best-known of the windows, however, is the Space Window, because it also contains a stone weighing 7.18 grams that came from the Moon, donated by the astronauts of Apollo 11.
The interior is also mainly in Neo-Gothic style, although a number of the side chapels are in Norman and Romanesque style.
The large pulpit, where Martin Luther King pronounced his last sermon, and from which all the US presidents - as well as the Dalai Lama - have spoken, was carved modeled on the shape of the pulpit in Canterbury Cathedral.
The high altar, known as the Jerusalem Altar, is made from stone brought from a quarry in the Holy Land, reputedly the same one that provided the materials for the construction of the famous Solomon's Temple.
It is impressively large, so it is visible the moment visitors enter, and the cross on top of it is six meters high. On the floor opposite the altar are ten stones from the Chapel of Moses on Mount Sinai, symbolizing the Ten Commandments.
The numerous chapels include the Children's Chapel, the only one of its kind, and the Bethlehem Chapel, the first to be opened for religious functions in 1912.
Placed along the naves are numerous statues, some of people so well-known they are instantly recognizable, such as Pope John XXXIII, Mother Teresa of Calcutta, Abraham Lincoln or Martin Luther King.
An interesting fact: the east-west axis of the Cathedral is actually a little off-center. It does not run in a perfectly straight line from one end of the nave to another; there is a difference of 20 centimeters. This is deliberate: Like a medieval cathedral, it was built with a number of mistakes, to show that only God is perfect.