NATIONAL GALLERY, Annunciation By Jan Van Eyck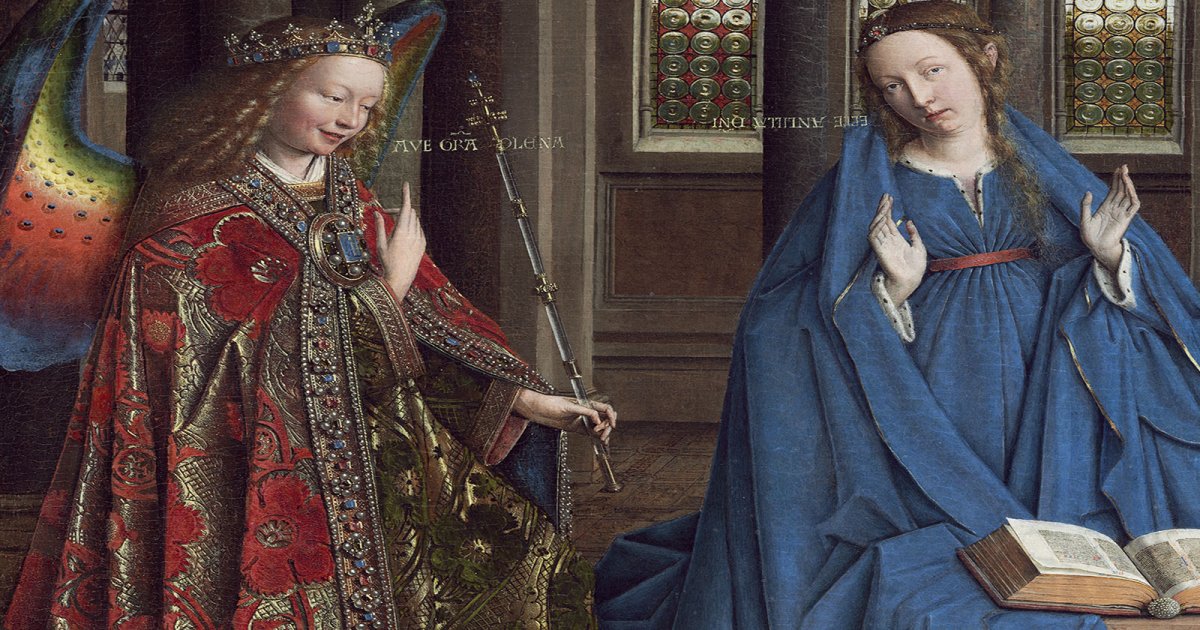 Audio File length: 2.25

Language: English / USA
Jan van Eyck is the most important exponent of Flemish painting, yet we know very little about him, so much so that not even his date of birth is certain, which is believed to be between 1390 and 1400.
This painting called "The Annunciation" depicts the proclamation by the Archangel Gabriel to Mary that she was to be the virgin mother to the son of God. The setting is the Temple of Jerusalem, where, in the Middle Ages, it was believed that Mary worked as an embroiderer. The painting combines photographic realism–obtained via the meticulous attention to detail that is typical to all Flemish paintings, and van Eyck's work in particular–with refined symbolism.
The temple, in Romanesque Gothic style, is decorated with themes that belong solely to the Old Testament, while famous scenes, such as Samson and Delilah and David and Goliath are depicted on the floor tiles.
You will no doubt have noticed the realism of the stunning windows. The extraordinary painting technique displayed by van Eyck, however, reaches its peak in the cloak of the archangel, which is considered to be a genuine masterpiece of virtuosity.
Even the dialog is painted, in golden letters, yet those spoken by Mary–as you can see–are upside down to indicate the direction of the sound. Respectively, they say "AVE GRÃTIA PLENA" and "ECCE ANCILLA DOMIÑI", meaning Hail, full of grace, and Behold the handmaiden of the Lord.
The attention to detail, typical of the miniatures of the time, does not, however, exclude the inclusion of symbols, such as the Lily, a sign of Mary's purity, or the dove of the Holy Spirit along with seven rays of light indicating the seven gifts of God.
According to recent studies, the painting was inspired by the Golden Mass, a theatrical representation of the events in sacred writings put to music, which was held in churches in Flanders in the fourteenth century.
Interesting fact: Jan van Eyck is responsible for making oil painting popular. In fact, before him, people usually painted with tempera colors, but van Eyck developed a sophisticated technique for getting better colors using drying oils, as well as for spreading them. In fact, his color effects are so realistic because they have been achieved by painting thin layers of color, one on top of the other. The very same technique was honed and perfected by Leonardo da Vinci.