NATIONAL GALLERY, Woman Holding A Balance By Vermeer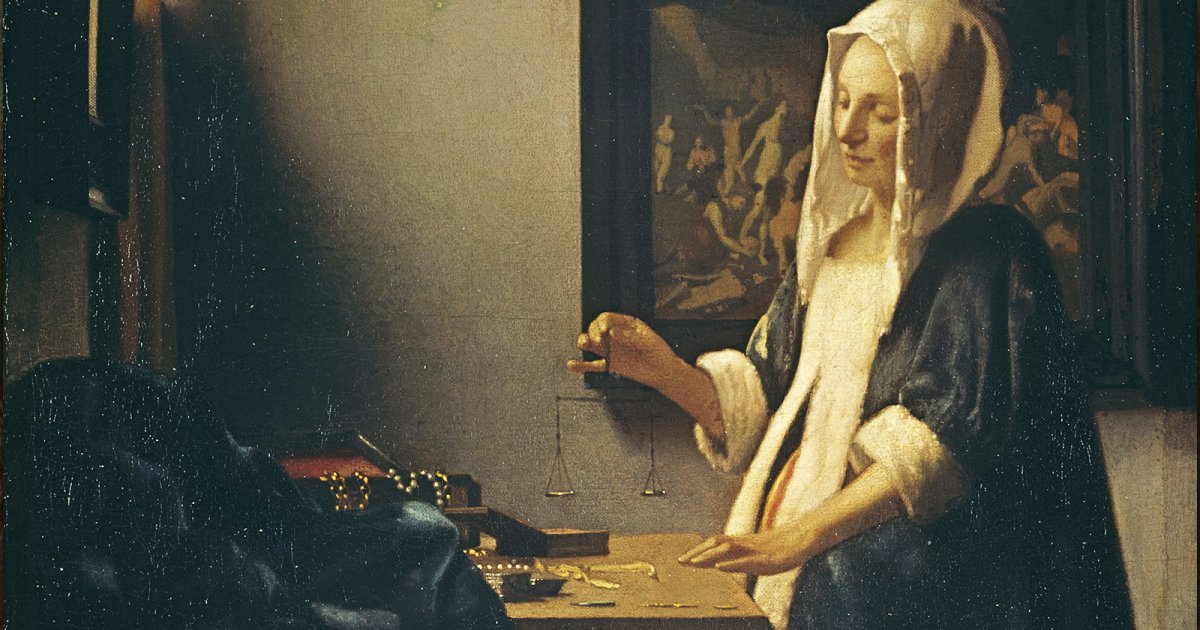 Audio File length: 2.17

Language: English / USA
The Washington National Gallery has an overwhelming four of the approximately 35 paintings attributed to Jan Vermeer, the alias of Johannes Van der Meer, one of the most famous painters in the world.
This piece called "Woman Holding a Balance" is particularly interesting because it features many characteristics of his unique style.
Heir to the photographic realism of the Flemish painters, to the extent that you can even see the dust hit by the light in his canvases, Jan Vermeer was as masterful as they were at loading his paintings with symbolism, albeit portraying simple scenes of everyday life.
In fact, the painting depicts a young woman in a blue dress, with a balance in her hand, standing before a table on which stands an open jewelry box with two pearl necklaces and a gold chain spilling out. However, if you look carefully, you can see a painting of the Last Judgment behind the girl, while she has a mirror in front of her.
The meaning seems to be clear: the young woman appears to be reflecting on Judgment Day, weighing her own vanity and wealth against her moral virtue.
The oil painting was created by the Dutch painter between 1662-63 and was inspired by the parable of Jesus which tells how a seller of pearls in search of heaven discovers he has found the most valuable pearl when he has just decided to sell everything he owns. Indeed, Vermeer was a devout Catholic.
To achieve this level of realism, it is said that Vermeer used a camera obscura, a box that reflected an image onto the canvas using mirrors, in order to meticulously reproduce the light. This machine created blurriness and this can be seen at times in his canvases too.
Interesting fact: Vermeer took months to create a piece of art and throughout his whole life he only finished around 50 in total, 15 of which have been lost. As such, he did not earn a lot and, since he had to support 11 children, he died in extreme poverty at just 43 years old. Incredibly, his works were auctioned off and forgotten, so much so that the most famous, "The Girl with The Pearl Earring", which is valued at tens of millions of dollars today, was sold in 1882 for two guineas and 30 cents, little more than spare change.