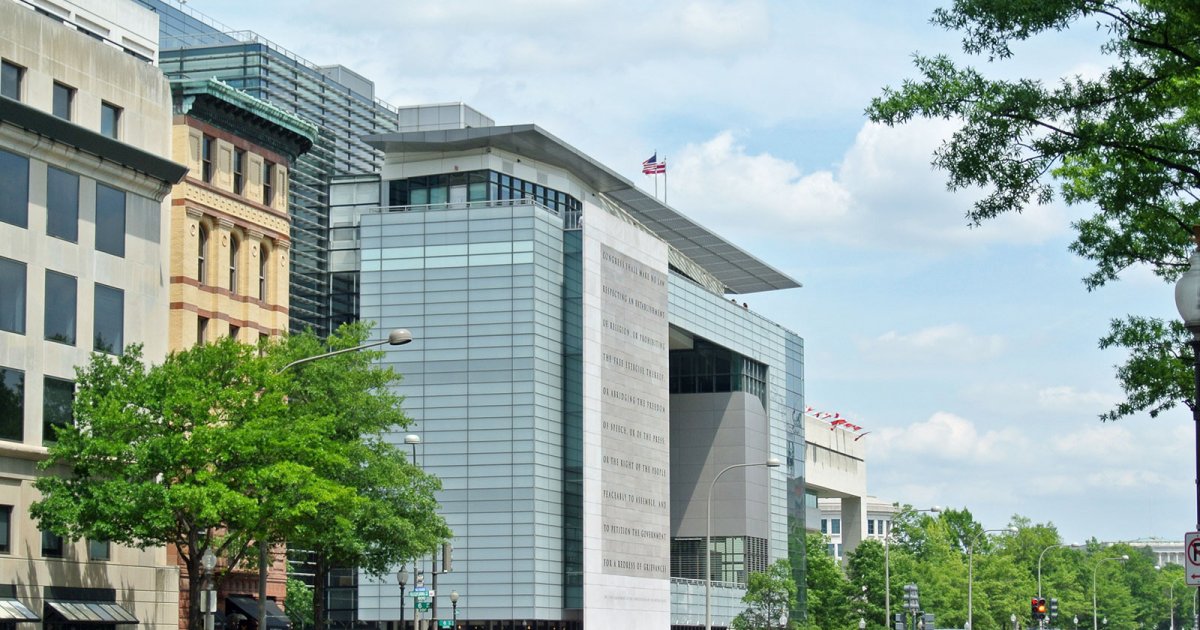 Audio File length: 2.25

Language: English / USA
Hello, my name's Marcy, and I'm your personal guide. Along with MyWoWo, I'd like to welcome you to one of the wonders of the world, the Newseum, a stunning interactive museum focused on freedom of speech and the press and mass media.
Tickets cost $25.95 plus tax for adults and $14.95 plus tax for young people under the age of 18. That's really rather expensive but kids under six get in for free and it is one of the most popular museums with tourists and especially fun for children.
The 60,000 square meters building has 15 theaters inside, an equal number of galleries and a giant projection screen. There is also a television newsroom.
Walking into the 26-meter-high atrium, you'll find a section of the Berlin wall, the longest conserved chunk, and a series of documents that piece together its construction and demolition. There is a gallery dedicated to the history of comics and another to the technologies and investigative methods used by the FBI.
The rooftop terrace is also a must–you can enjoy the unforgettable view of the Capitol from the sixth floor. You can also read the first few pages of the day from one hundred newspapers from all over the world, including those from your own country.
On the fifth floor, however, you'll find the biggest gallery in the Newseum, which takes you through over five centuries of journalistic history.
The fourth floor is dedicated to student and civil rights movements and the September 11 tragedy, which is reconstructed via videos and first-person accounts.
The third floor is dedicated to freedom of the press around the world and the history of television, radio and the Internet told with the help of various technological means.
On the second floor, you can have some fun challenging your friends to interactive games, or immerse yourself through virtual reality in the old divided Berlin, and try to get across the wall or go live on TV as a reporter.
The first floor, on the other hand, is where you'll find the biggest collection in the world of photographs that have won the Pulitzer Prize, the most important award in the industry.
I'll leave you with an interesting fact: you have to take the biggest hydraulic elevator in the world to get to the sixth floor, which is the only one that is able to hold 72 people at the same time and take them to a height of over 30 meters.