ROOSEVELT MEMORIAL, Presentation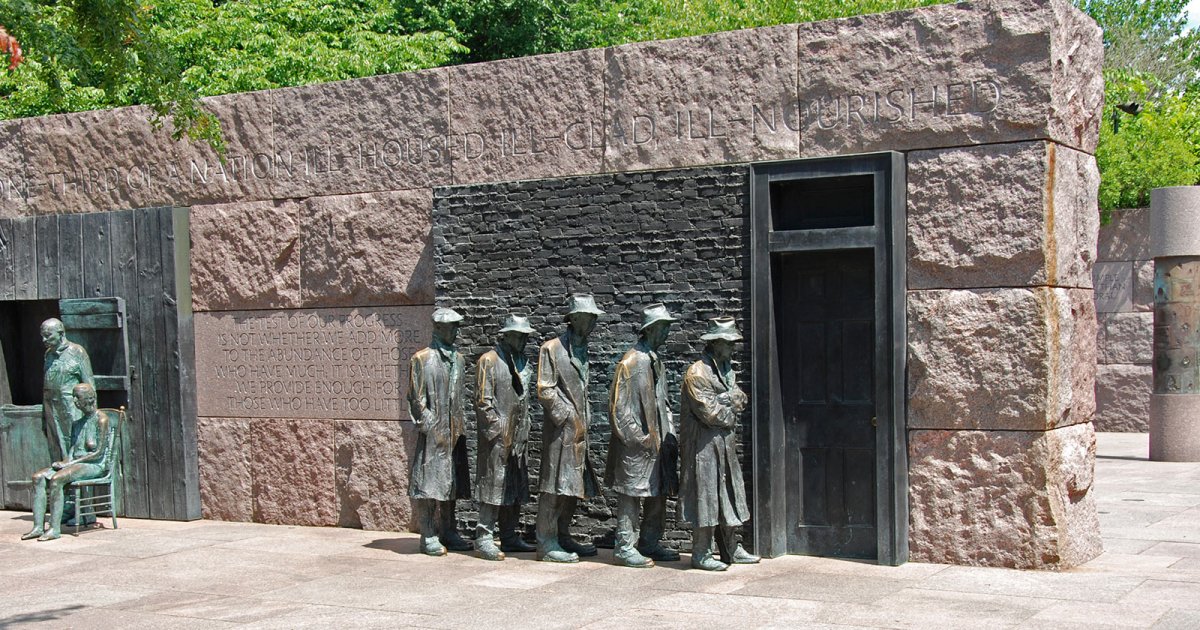 Audio File length: 2.34

Language: English / USA
Hello, my name's Rick , and I'm your personal guide. Along with MyWoWo, I'd like to welcome you to one of the wonders of the world: the Franklin Delano Roosevelt Memorial.
It is dedicated to the American president who led the United States out of the Great Depression of 1929 and then to victory in the Second World War. He is the only American president to have been elected four times to the White House.
The monument is the work of architect Lawrence Halprin and was inaugurated by Bill Clinton in 1997. It is made up of a series of sculptures, commemorative plaques and water features surrounded by trees along the bank of the Potomac River. It is split into four open-air rooms, one for each of Franklin Delano Roosevelt's presidential mandates, within which 12 years of American history are narrated.
The water features are extremely captivating and are a fundamental element, both in terms of the monument's staging and symbolism.
Each of the four open-air rooms contains a waterfall. As you move from one room to the next, the waterfalls become bigger and more complex, reflecting the increasing challenges faced during Roosevelt's four presidencies.
The many water features symbolize events: a single large waterfall for the Great Depression, chaotic gushing water for the Second World War and a still pool for Roosevelt's death.
Initially, visitors could enter the water, however today this is not allowed.
The commemorative plaques are inscribed with quotes from Roosevelt's speeches, while the statues represent scenes from the Great Depression or historic events, however there is also one of the president's dog, a black Scottish Terrier named Fala, and one of the First Lady, Eleanor Roosevelt.
I'll leave you with an interesting fact: there are two bronze statues of Franklin Delano Roosevelt on the site. One, by sculptor George Segal, depicts him listening to the radio, sitting in an armchair with his legs wrapped in a blanket, just like his public image.
A second statue, right in front of the entrance, however, depicts him in a wheelchair. It was put here only in 2001, following protests from the American Association of People with Disabilities. Roosevelt always hid the fact that he was confined to a wheelchair due to polio, fearing that it could harm his political career. However, after his death it became well-known and there was no reason to deny it any longer.