MARINA BAY, Helix Esplanade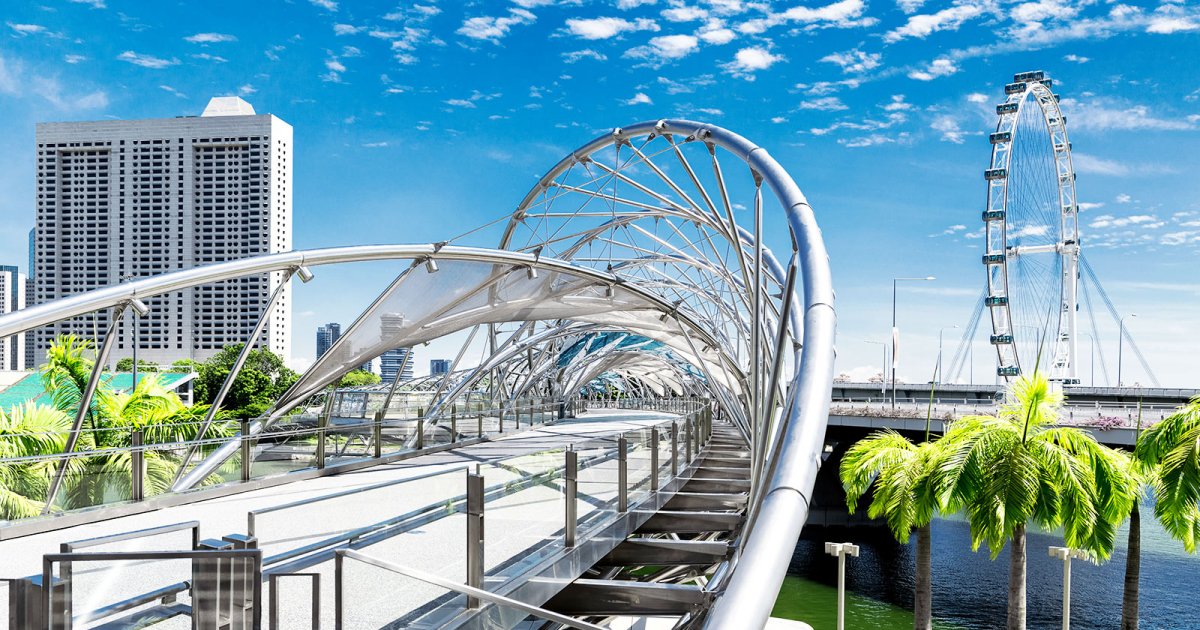 Audio File length: 2.25

Language: English / USA
The structure of the Helix Bridge resembles that of a DNA molecule. It is made up of tubes in the shape of a helix that move in a spiral shape in opposite directions, meeting at just one point, hidden below the walkway. The outer spiral is formed by six twisting tubes two and a half kilometers long, and the inner spiral is composed of five tubes.
If you look carefully, you'll see some pairs of colored letters, C and G and A and T, which stand for cytosine, guanine, adenine and thymine, the four bases of DNA. They are lit up at night in red and green.
The Helix, designed by a team of architects and engineers from Australia and Singapore, is 280 meters long and is shaded by a canopy made of blown glass and steel mesh.
Stand on one of the four oval viewing platforms located at strategic points of the bridge, and admire the breath-taking views of the Singapore skyline.
On the last one before you come off the bridge on the north side, look west, and you'll see another of Singapore's emblematic buildings: the Esplanade – Theaters on the Bay.
The Esplanade, designed by two architecture firms, DP Architects of Singapore and Michael Wilford & Partners of London, consists of two large circular glass theaters, topped with a domed roof covered with more than seven thousand aluminum sunshades. From the design stage to the inauguration, the work took eight years, and the two theaters, which opened in 2002, now host concerts and performances all year round and are considered the most important cultural center in the city.
On the other side, to the east, you can spot the Flyer, the Ferris wheel of Singapore. A trip on it is the best way to enjoy views of the city and the bay.
An interesting fact: the locals call the Esplanade the Durian, because the roof resembles the tropical fruit of the same name with a spiky shell, very popular in Southeast Asia. The smell of this fruit, which can weigh up to three kilos, is so overpowering that many tourists cannot even come close to it, which explains why it is banned from many hotels.